BinG! Harmony College 2021 - Living Room Edition
Due to the COVID-19 pandemic, the BinG! Harmony College 2021 - Living Room Edition will take place virtually from October 1st to 3rd, 2021.
The BinG! Harmony College is an annual weekend organized by BinG! where the whole intensive and inspiring energy of barbershop singing can be experienced in four-part harmony. Each singer has the opportunity to further their musical education and to have a lot of fun by participating in various courses and events.
At the virtual Harmony College 2021 - Living Room Edition, courses on singing, stage presentation, interpretation and barbershop-specific music theory will be offered by numerous renowned international as well as German barbershop experts who are always excited to pass on their knowledge and enthusiasm for barbershop every year.
Chorus singers will have the opportunity to sing in the HC chorus via Jamulus. Thanks to this low-latency music rehearsal app, two songs will be brought to life in an upbeat, soulful, passionate and fun way, which will later be performed online in front of an audience at the final concert.
In addition to the various courses, a limited number of individual coaching sessions are offered to quartets registered with BinG!. Depending on the coach and the quartet's own wishes, the sessions always focus on one of the three evaluation categories in barbershop: Singing, Performance or Music.
At the end of the weekend, there will be a final concert and the "Chorditorium", a virtual stage where quartets can show what they learned during Harmony College. There will also be numerous barbershop tags and songs sung in our Jamulus rooms all night!
In recent years, the BinG! Harmony College has become a real magnet for barbershoppers and a cappella enthusiasts from all over Germany. The wide range of educational content, the fun of singing together (sometimes without ever going to sleep...) and the great atmosphere have ensured that many participants keep coming back.
Jamulus
With the help of the computer program "Jamulus", it is also possible to sing together online in real-time. During the Bing! Harmony College 2021 - Living Room Edition, some classes will be offered on Jamulus. The Jamulus onboarding team will offer tech support sessions before the weekend so that anyone who would like to sing along can do so easily. There will also be many courses offered in Zoom for those who don't want to use Jamulus.
Here is a guide created by BinG! that explains what the technical framework is for using Jamulus. (Available in German only).
Harmony College 2021 Schedule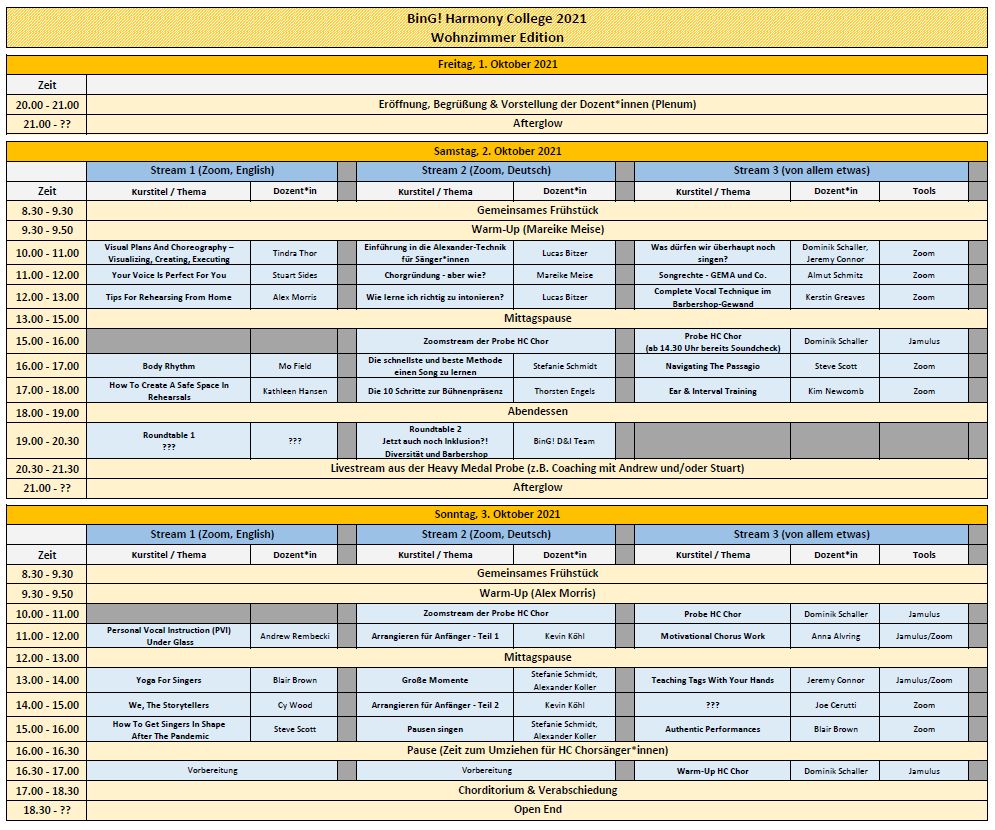 BinG! Harmony College 2021 - Living Room Edition
Start: Friday, October 1st, 2021 - 7 P.M. CEST
End: Sunday, October 3rd, 2021 - 9:30 P.M. CEST
Where: Virtually in Zoom & Jamulus
How much longer?
General Terms and Conditions
BinG! Barbershop in Germany e.V. is the sole organizer of the virtual Harmony College 2021 - Living Room Edition and therefore bears the sole financial risk.
The general conditions are as follows:
The participant's place is reserved with the booking of the corresponding Pretix ticket.

The services of BinG! include only the course offering.

BinG! reserves the right to change the course offering.

The cancellation of the contract must be made by returning the ticket in Pretix [cancel ticket].

All further agreements require the text form for their legal validity, as well as a possible cancellation of this text form clause.
Terms and Conditions BinG! e.V. - Barbershop in Germany e.V. as of August 3rd, 2021.
Contact email: harmony-college@barbershop.de
Future Harmony Colleges:
September 30th - October 3rd, 2022
September 30th - October 3rd, 2023
October 3rd - October 6th, 2024