The 2022 Harmony College will take place live in the Oberwesel Youth Hostel!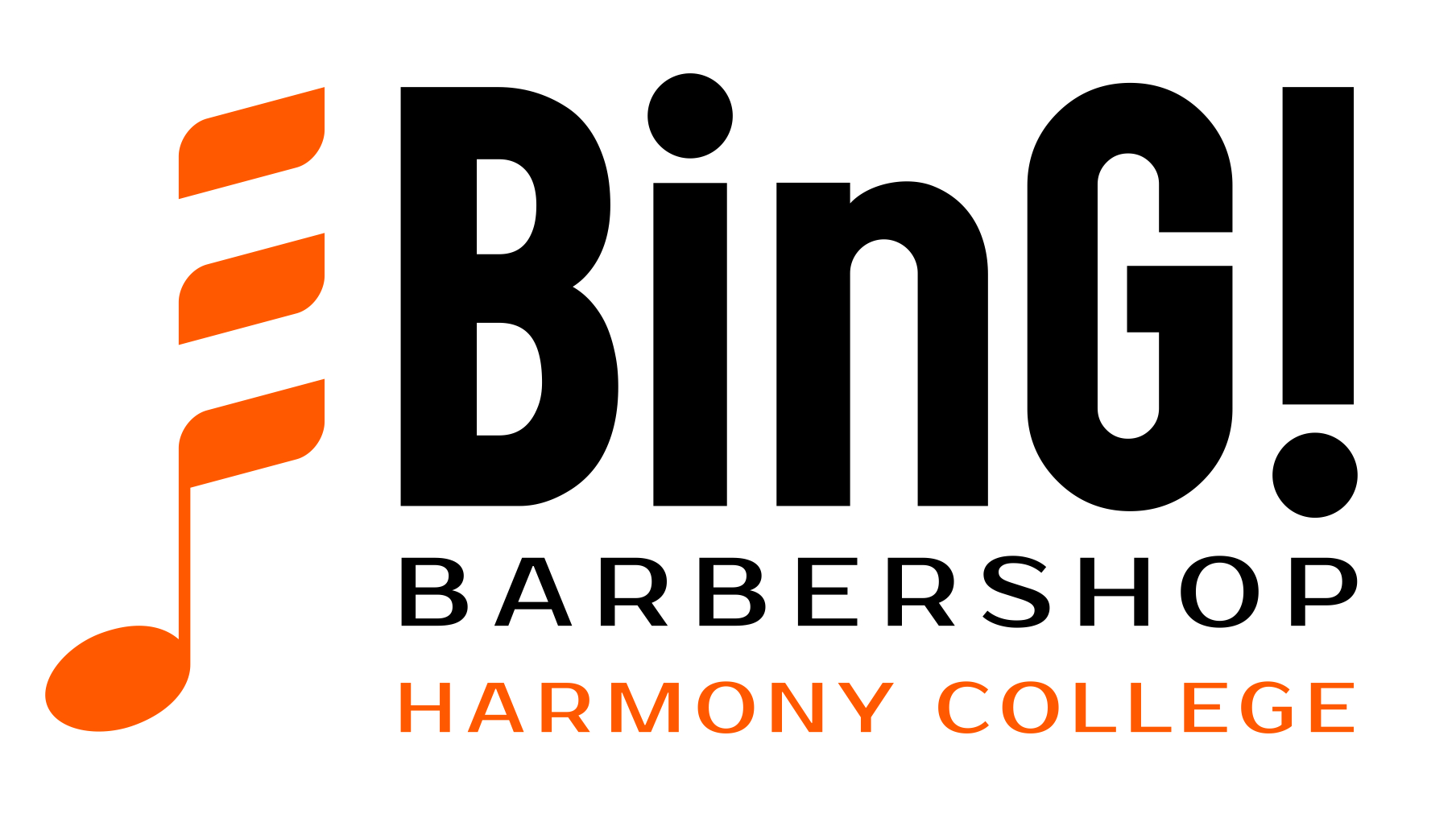 The Harmony College is an annual long weekend organized by BinG!, during which the intensity and inspiring emotionality of barbershop singing can be experienced in four-part harmony. Each singer has the individual opportunity to further their musical education and to have a lot of fun. Choral singers can sing in project choruses. In these choruses, two songs each are brought to life in an upbeat, soulful, passionate and cool way. The songs are then performed in front of an audience at the concert at the end of the weekend.In addition to the choir rehearsals, interesting courses are offered on the topics of singing, stage presentation, interpretation and barbershop-specific music theory. Every year, numerous renowned international barbershop experts look forward to passing on their knowledge and enthusiasm for barbershop. ​​​​​​​
For our younger participants, we have specially created a youth camp (for barbershoppers up to 30), which offers a lot of fun and fellowship among peers. The camp also ends with a concert performance at the end of the weekend.
The 3rd stream of the weekend is the Quartet College with special courses and individual coaching for BinG! registered quartets. Depending on the coach and your own wishes, the sessions focus on one the three evaluation categories: Singing, Performance or Music.
Traditionally, the weekend starts with the quartet competition called the "Coesfeld Cup", in which quartets are able to present their two best contest songs. Every two years, the competition is also a qualification for the German Quartet Championship of the BinG! Music Festival.
This contest is the perfect start to an fun and harmonious weekend with different evening events, exciting courses, interesting talks and the famous 'afterglow", which rounds off every day with a lot of fun.
In recent years, the BinG!-Harmony-College has developed into a true magnet for barbershoppers and a cappella enthusiasts from all over Germany. The wide range of learning content, the fun of singing together (sometimes late into the night...) and the good atmosphere have ensured that many participants come back again and again.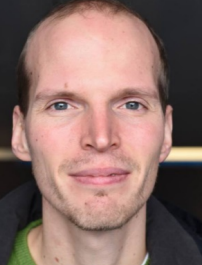 Barbershop und Chormusik begeistern Lucas bereits seit 20 Jahren, aktuell singt er mit dem Männerquartett Barberpapas sowie dem Chor Heavy Medal. Seit 2019 ist er im BinG! Coaching Certification Programm mit Schwerpunkt "Singing"" und macht parallel eine Lehrer-Ausbildung in Alexander-Technik, einer Körperarbeit zur Erkennung von Verspannungen und ungünstigen Verhaltensmustern. Er coacht Quartette und Chöre und gibt Kurse rund um das Thema "Singing". Bei BinG! kümmert er sich mit Herzblut um die Jugendförderung und Weiterverbreitung dieses suchtgefährdenden Hobbys. Als Physiker lässt Lucas sein Interesse an Naturwissenschaft und Technik auch in seine Kurse einfließen.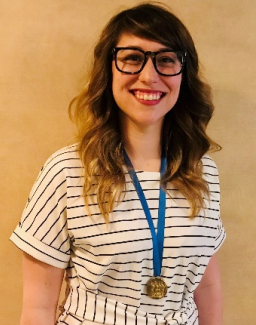 Blair is a singer and certified yoga instructor based in Fort Myers, Florida. In 2013, she earned a BA in Music from the University of MissouriSt. Louis, where she studied with Ambassadors of Harmony codirector, Dr. Jim Henry. In 2018 she went on to become a Certified Yoga instructor at the True Nature School of Yoga in Oceanside, CA. Blair sings Lead with two-time BinG! World Mixed Quartet Champions, Double Date. Since their formation in 2012, Double Date has performed, taught, and coached throughout the US and around the world. They have recorded and produced two full-length albums and are working on their third. Their second album, Accentuate the Positive, produced CARA-award winning track, 'Didn't We', which was awarded 'Best Barbershop Song' of 2018. In July of 2019, Blair became the first woman elected to serve on the Barbershop Harmony Society's International Board of Directors, with her term commencing January 2020. Blair is also a BHS judging candidate in the Performance category. In September 2020, she and her husband Ravi welcomed a daughter, Daisy, who they hope will follow in her parents' footsteps and become a life-long barbershopper.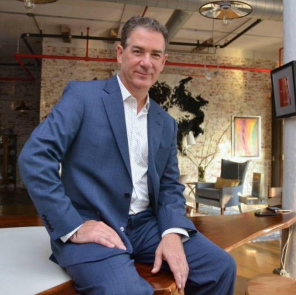 Jay has been active in the Barbershop Harmony Society since joining the Vocal Majority as a teen. His service includes teaching in many districts -U.S. and Canada- as well as numerous schools in Europe and the UK. As the Musical Director (emeritus) of Parkside Harmony it has been his honor to compete internationally with this chorus, and several others including the Alexandria Harmonizers and Vocal Majority. Jay has also been on the international quartet stage several times, including a top 20 semifinal appearance. Jay has hold two degrees (B.A. and M.A.) in Music Performance, and a doctorate in Educational Leadership. He was the 1996 recipient of the MENC/BHS award for service and music education, and a school Grammy award recipient, from NARAS. He has served on the C&J Board of Review for Singing, and currently is an active coach, judge, and consultant in choral music and leadership design.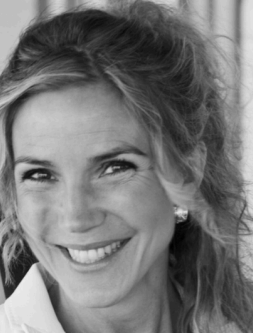 Åsa started singing Barbershop in Stockholm, Sweden, in 1990. She is the Director and one of the founders of Alba Show Chorus, and since 2019 she is also the Director of The EntertainMen. Before Alba was founded in 2004, Åsa was a member of the SunLight Chorus for 14 years (1990-2004), where she was the Assistant Director beside her mentor Åse Hagerman. Åsa has been a quartet singer since 1991 in the quartets Sudden Comfort and Matchbox. During the 90´s she was also the lead singer in a rock band for 10 years. In her everyday life Åsa has been a business leader since the mid 1990:s, working with business management and product development in the Automotive business for more than 20 years. She has a deep understanding of leadership and what makes a team successful and sustainable over a long period of time, as well as how to lead change and development work. Today Åsa runs a company where she is working as a mentor, psychotherapist and coach with people and groups regarding leadership, personal development and team building as well as business-, conflict and change management. Åsa has been coaching choruses, quartets and individuals since the late 90's, and today coaching is a big part of her everyday life. She is constantly working with different Barbershop groups and their teams and members, helping them to go from Good to Great in every aspect.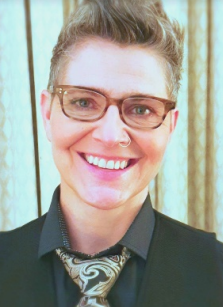 Mo Field, originally from Canada, is a musician and former Master Director of the multiple international award winning Stockholm City Voices - a 42 voice women's a cappella ensemble, from Stockholm Sweden. She is a globally sought after vocal performance coach, arranger, educator, workshop facilitator, life coach and mentor. Music is in her spirit. From classical French horn, theatre and music production, to her passion for playing bass in the funk soul, motown, r&b (and select disco) genre, Mo is a multi-instrumentalist who has enjoyed a vast musical career as a professional musician across the board. Mo is a published songwriter/composer and ASCAP member, BHS Performance Judge and a die hard barbershopper enthusiast! She is a member of BHS, SAI and HI, and currently sings in 2 quartets - bass in Swing Theory ( HI ) and baritone in the mixed quartet, The Six/Four ( BHS ), and is the Artistic Director of The Great Northern Union, based in Minneapolis, Minnesota. Mostly, Mo loves music. Mo loves people. Mo loves what music can do to and for people - and what people can do with music to help people be better people.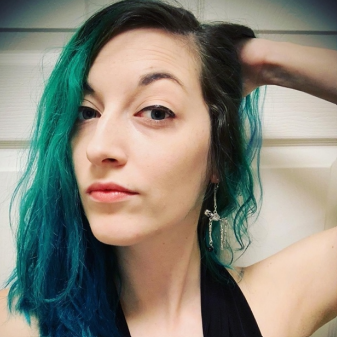 Melody has been singing barbershop in various quartets and choruses since she was 14. She earned her music education degree from the University of Georgia, and after that spent a year working for Disney World and Universal Studios before beginning her teaching career at Duluth Middle School. She now teaches chorus at Roberto Clemente Middle School in Germantown, Maryland. Melody is proud to be a member of Harmony Incorporated, Sweet Adelines International and the Barbershop Harmony Society. Her roles currently include Region 14 Arranging Education Specialist and certified BHS Music Judge. She also sings baritone in the Song of Atlanta Show Chorus and Parkside Melody, as well as the current HI Harmony Queens, Hot Pursuit. Melody loves arranging and coaching groups of all levels, and she especially enjoys being a part of barbershop youth events.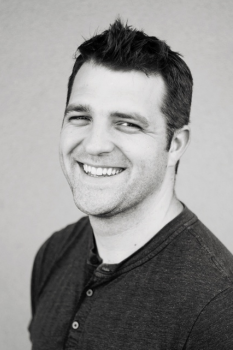 Michael Kelly is a respected performance coach from Seattle, Washington and has been judging Barbershop Performance since 2012 and develops education for the Barbershop Performance judging program. He sings with his 3 biological brothers in the top 20 quartet: Momma's Boys. In 2007, he helped found and lead the first BHS youth chorus, Northwest Vocal Project and sang with Westminster to gold in 2019. Michael studied acting and performance at Brigham Young University and has toured with the Seattle Opera. He performs and coaches in local theater and is a lifetime student of the theatrical expression. He believes there is no one way to create a truly meaningful performance, but that we are all on a journey to learn how communicate with each other in meaningful ways. Michael has had 3 German Au Pairs, German grandparents, a wife that speaks German and loves German gummy bears, German pretzels and as of last year's college, German beer.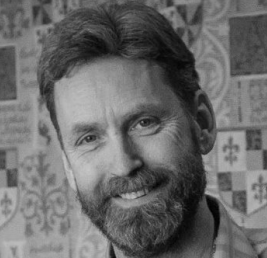 David has been involved in Barbershop music for a few decades. He is a performer, Performance Judge and coach/teacher. He sings with the Toronto Northern Lights chorus and is involved in creating and coaching their contest performance packages as well as coaching many other choruses and quartets around the world. He speaks one language fluently… sort of. David's original musical background is in folk and bluegrass music where he played 5-string banjo many moons ago. He also spends a great deal of time performing in theatrical productions and comedy shows in Toronto, Canada, his most recent role as Lurch in The Addams Family.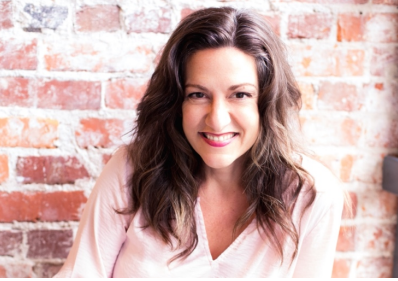 Donya has been around Barbershop her whole life and has made a career of working with performers. She's been teaching voice for over 20 years and is a Certified Associate Teacher of Fitz Maurice Voicework and became a Somatic Experiencing Practitioner in 2020. Her beginning as a dancer (culminating in a BFA Dance from Simon Fraser University) gave her a fascination with all things body- and movement-related, so her interests in performance range from nervous system function in performers to body percussion to fullbodied singing practices. She has spent the last 14 years producing learning tracks, has written and arranged a handful of pieces for a cappella singers, and produced an album of holiday music entitled Sister Grinch. Donya sings in two quartets: Fandango, specializing in holiday performances, and Metzin' Around, a mixed group with brothers Tom and Mark and husband Phil, which sings a wide variety of genres. She currently teaches voice for actors at Vancouver Film School and spent the Fall semester of 2021 as an Artist in Residence at Concordia University in Montreal teaching voice and creating a new work of theatre.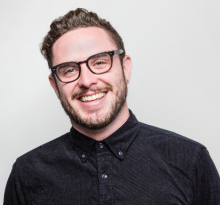 Alex is a graduate of the University of Western Australia with a Bachelor of Music majoring in composition. Alex is in demand around the world as an arranger and vocal coach working as a guest educator with ensembles, teaching classes and facilitating workshops. Alex is a Certified Music Judge with the BHS and is currently Music Director of Geelong Harmony Chorus (SAI), shOUT Youth Chorus (MGLC) and a variety of other touring ensembles.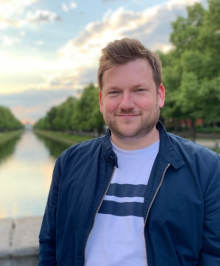 Andrew is a BHS Certified Singing Judge, music educator, singing teacher, choir director, and coach originally from Kansas City, Missouri (US) who has lived in Munich, Germany for the last 3 years. He is the Director of Herrenbesuch, the men's barbershop chorus from Munich, and a vocal coach and instructor for many BinG! groups. He received his undergrad and masters in music education from Northwest Missouri State University and taught in the public school system as a choir teacher for six years. He is formerly the Associate Director of Central Standard, BHS Silver Medalists 2016, and was a member of the chorus for 10 years. He has been barbershopping for over 16 years and is excited to continue that passion here in Germany.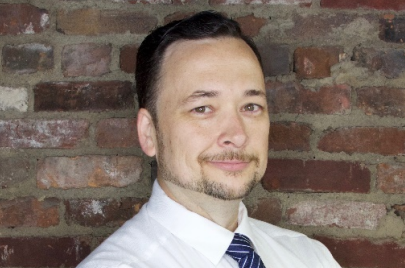 Steve is the Director of Harmony University and Education Services for the Barbershop Harmony Society. Additionally, his research interests include the biophysiology of the barbershop singing voice, barbershop acoustics, and barbershop history. He is a certified Singing judge and is a frequent faculty member for harmony colleges around the world where he teaches voice techniques and vocal pedagogy. Steve is active as a voice teacher, youth chorus clinician, coach, and chorus director, and has sung in various quartets and choruses, including the medalist chorus Central Standard of Metro Kansas City, where he served as Vocal Coach. Steve now serves as the director of the TuneTown Show Chorus and the vocal coach and assistant director of the 2018 5th place Music City Chorus, both in Nashville TN. He enjoys living in Nashville with his wife and two children.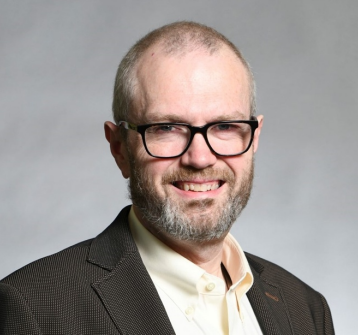 Steve is a 39-year member of the Barbershop Harmony Society, who proves the adage that barbershopping runs in the blood. Great-grandfather Frank Barker started a chapter in 1946; his father, Dave, was a 40+ year member, and his son, Joshua is a BHS member. His wife, Renee, is a 40-year member of Harmony Inc. and BHS member who directs "New England Voices in Harmony" (2014 and 2018 champs). Their daughters, Christina and Samantha (also BHS members) sing with Renee in "Taken 4 Granite", 2016 Harmony Inc. International Quartet Champions. Steve is actively involved in several facets of barbershopping, including: • 10-time International chorus director (Nashua Granite Statesmen) • 5-time International quartet competitor (From the Heart and Potential Favorites) • Certified Music judge (2010), and current BHS Music Category Specialist • Over 300 commissioned arrangements, ranging from International champions (BHS, Harmony Inc, SAI) to chapter quartets and choruses • Active coach of ensembles and faculty member of barbershop schools worldwide • 19-year Harmony University faculty member and chair of the Arranging Track During the day, Steve works for Hewlett Packard Enterprise as a Senior Director of Engineering
Ever since the success of our online Harmony College (Living Room Edition), the BinG! HC Team has been working on organizing our upcoming live Harmony College. The members, (from right to left and top to bottom), are:
​​​​​​​
Simone Knoop
Silke Ostendarp
Hélène Moëlo
Conny Jäger
Merle Pohlabeln
Regine Igwe
Danielle Schwarz
Franziska (Franzi) Dickhut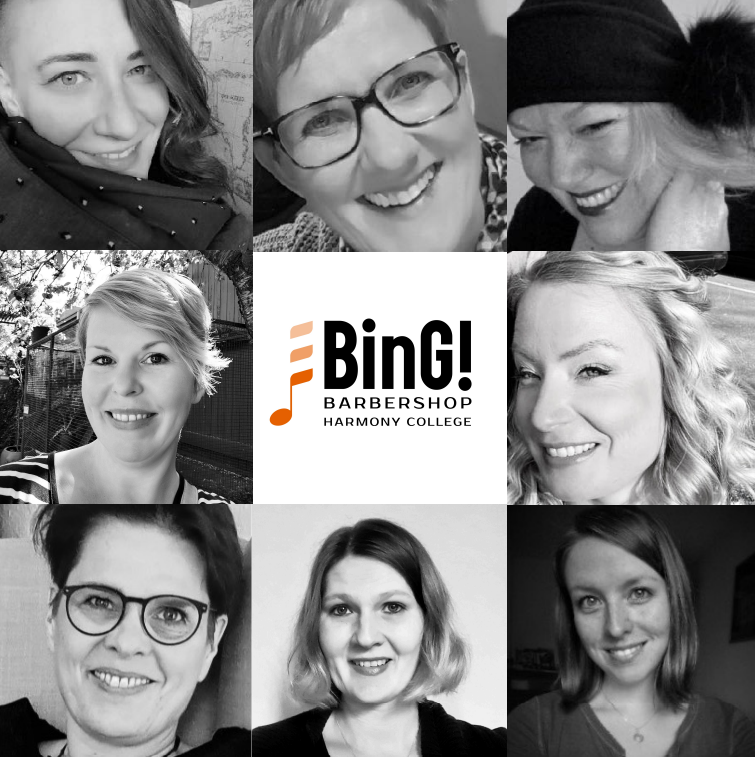 BinG! Harmony College 2022
Start: Friday, September 30th, 2022 3:00 P.M.
End: Monday, October 3rd, 2022 3:00 P.M.
Location: Rheintal-Jugendherberge Oberwesel
Dates for future Harmony Colleges:
Sept. 30th - Oct. 3rd, 2023
Oct. 3rd - Oct. 6th, 2024
Oct. 2nd - Oct. 5th, 2025​​​​​​​
Pictures from Harmony College 2019